DON'T LET A GREAT NIGHT OUT SLOW YOU DOWN TOMORROW
The liver detox your body craves
Lemon Flavoured - All natural, of course!
Natural Pectin - Gluten-Free - Vegan-Friendly - No Eggs, Soy, Dairy or Nuts - Halal Certified
Your night out doesn't have to haunt you the next day! Bounce back from a night out the good way with a burst of revitalising turmeric, moringa and black pepper in a single tasty gummy supplement. We all know how hard the next morning after a great night can be, and can even make us veer away from joining in in the first place. Try our Good Night Out Gummies to take the edge out of your on-the-go lifestyle and help you do more of what you love. 
Our gummies are deliciously lemon flavoured and moreish, which is great news because these tasty chewable supplements are designed to be taken before and after your night out for maximum benefits as a support for healthy liver function, protection and detoxification, heart health and joint support. Vitamin intake for your night out is sorted! 
Your mates are definitely going to want to know your secret, but we won't tell if you don't.
Turmeric (85% Curcumin) 25mg (equiv. Fresh 1000mg)
Black Pepper: 2mg
Moringa: 1mg (equiv. Fresh 20mg)
Soft Chew Excipients, Natural Flavour (Lemon), No Added Colours.
- Vegan Friendly
- Pectin Fruit Base
- No Gluten or Gelatin
- No Dairy, Egg, Nuts or Soy
- No Artificial Flavours or Colours
- Halal Certified
For best results, adults should consume three before and two after a big night out.
Dietary supplements can only be of assistance if the dietary intake is inadequate. If you are pregnant, nursing or on medication, seek the advice of a healthcare professional before use. Contains sugar.
BELOW 25°C. KEEP IN A COOL, DRY PLACE.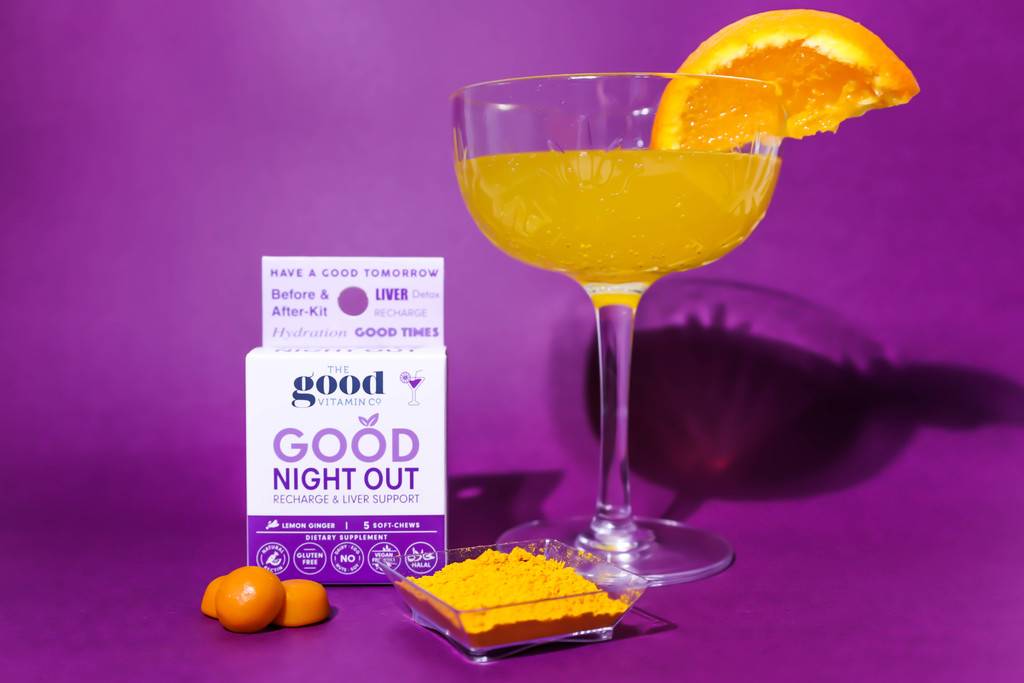 WHAT IS A HANGOVER & HOW DO SUPPLEMENTS SUPPORT RECOVERY
HOW DOES IT WORK EXACTLY?
The first thing we need to talk about is how hangovers happen. It isn't actually alcohol itself that creates the negative physical results from a big night out. Alcohol itself, in its own natural form, isn't naturally toxic to our bodies. The toxic chemical that creates the 'hangover' as it is known, is called acetaldehyde. Acetaldehyde is created in our bodies during the process they go through to detox the alcohol from your body. This process of detoxification happens in two stages. The first is the part where the alcohol is converted into the metabolite, acetaldehyde. The second part is where that metabolite is converted again so that it can be removed from the body in the form of a water-soluble molecule, known as acetic acid. This is where the hangover part comes in. That second process takes a long time, and so acetaldehyde builds up in the body, waiting to be released and detoxed from your system - but your liver can only work so fast. That build-up is what makes you feel terrible, waiting for the storm (or acetic acid) to pass. Enter Good Night Out Gummies! What our gummies are really great for are supporting that second process of detoxification, speeding it up to help you get back on your feet. Turmeric supplements in curcumin form are a fantastic compound that is known for speeding up this excretion process, which is why it's the main ingredient in our gummy. Now, while turmeric is awesome, it only works with the right sidekick. Black pepper allows the absorbed turmeric to behave the way it needs to, so of course it had to be a part of our ingredients list! For added zest and supportive vitamin intake, as well as antioxidant properties, moringa rounds out the ingredients list to perk you up and get you back doing what you love.
SUPPORTING HEALTH FOR LIFE

Liver function and detoxification

Joint movement

Heart Health

Immune system support

Eye Health
Antioxidant Properties⁠
FREQUENTLY ASKED QUESTIONS
Turmeric is not known for causing significant side effects, but always speak to your health professional before starting to take any kind of supplement. Our Good Night Out Gummy supports joint, cardiovascular, digestive and nervous system health, amongst other great benefits.
Moringa is great for eye health, skin health, bone health, immune health, liver function and support, as well as supporting your body's intake of essential nutrients and overall health. Moringa oleifera is a famous tree native to India, Africa, Asia and South America and is jam-packed with minerals, vitamins and proteins. Moringa contains Zinc, Vitamin A, Vitamin B1, B2, B3, Vitamin C (ascorbic acid), Folate, Calcium, Potassium, Magnesium, Iron and Phosphorus. It is also documented in some studies that moringa may lower cholesterol levels.
Curcumin is documented to support those with oxidative and inflammatory complaints, as well as overall health, which makes turmeric supplements very popular with adults of all ages and lifestyles.
Depending on the amount you consume, yes, turmeric can lower both blood pressure and blood sugar. If you are taking medications for these things, you need to consult your medical professional before adding any kind of turmeric supplements to your diet.
Our Good Night Out Gummies indeed offer support for healthy joint mobility and comfort, so can be counted as a joint support vitamin.