SUPERCHARGE YOUR DAILY ROUTINE
Everyday wellness on the go!
Mixed Berry Flavoured - All natural, of course!
Natural Pectin - Gluten-Free - Vegan-Friendly - No Eggs, Soy, Dairy or Nuts - Halal Certified

Harness the power of nature with nature's finest mushrooms, all in one delicious gummy! Using the goodness of Chaga, Turkey Tail, Lion's Mane, Cordyceps, Maitake and Reishi, these are your go-to supplements to support an absolutely massive list of health benefits. From supporting mental clarity and your immune system to healthy weight management, each of our six mighty mushrooms has lent its natural benefits to our daily solution for wraparound wellness. 
There's so much to benefit from taking a natural supplement that supports your everyday wellness and is deliciously chewable as well!
Each Soft-Chew Contains:
Lion's Mane Extract (Hericium Erinaceus): 25mg (equiv. to dry 250mg)
Turkey Tail Extract (Trametes Versicolor): 25mg (equiv. to dry 250mg)
Chaga Extract (Inonotus Obliquus): 12.5mg (equiv. to dry 125mg)
Cordyceps Militaris Extract: 12.5mg (equiv. to dry 125mg)
Maitake Extract (Grifola Frondosa): 12.5mg (equiv. to dry 125mg)
Reishi Extract (Ganoderma Lucidum): 12.5mg (equiv. to dry 125mg)
Black Pepper Extract: 250mcg (equiv. to dry 2.5mg)
Soft Chew Excipients, Natural Flavour (Mixed Berries).
Lion's Mane: Supports mental clarity, focus, healthy brain function and balanced mood
Turkey Tail: Supports immune health, gut health, antioxidants & against free-radicals
Chaga: Supports healthy aging, antioxidants & healthy cholesterol balance
Cordyceps: Supports energy, heart health, exercise performance and muscle recovery
Maitake: Supports healthy weight management, heart health & immune system
Reishi: Supports sleep, calm & de-stress, balanced mood & energy
Adults take 2 soft-chews daily, or as advised by your healthcare professional
Do not use if tamper seal is broken or missing. Dietary supplements can only be of assistance if the dietary intake is inadequate. If you are pregnant, nursing or on medication, seek the advice of a healthcare professional before use. Contains sugar.
Store below 25°C in a dry place away from direct sunlight.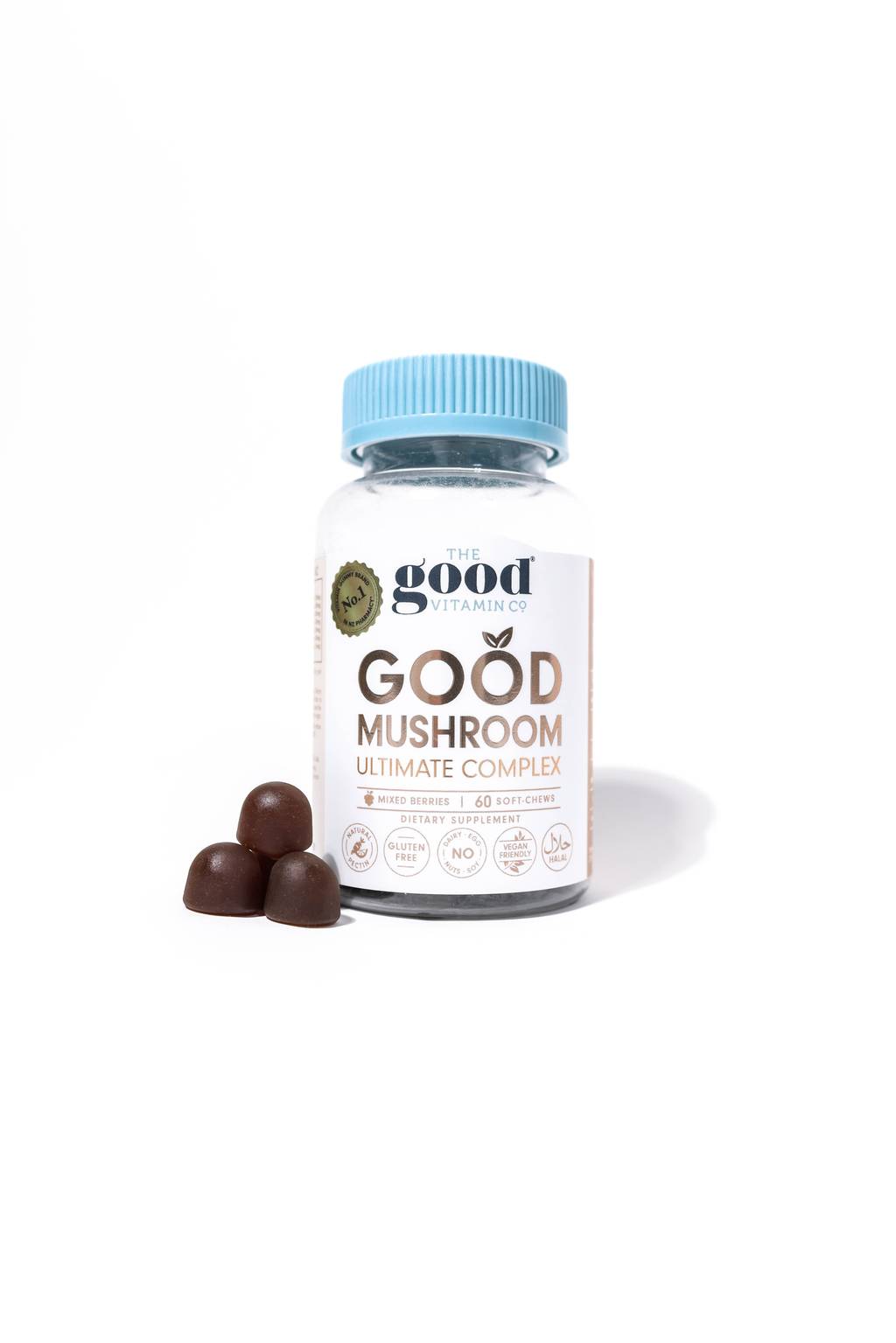 MENTAL AND PHYSICAL CLARITY
WHAT DOESN'T IT DO?
Each mushroom offers a plethora of health benefits that suit almost every single adult. Those with active lifestyles enjoy support for exercise performance and muscle recovery to get them back on track, while busy parents and professionals can benefit from supported mental clarity and de-stressing properties. Sleep is so important for adults with any lifestyle, and our Reishi mushrooms are fantastic for giving you that extra calm to unwind in time for a full night's rest.

Antioxidants for Immune System Defence

Energy Boost & Mood Balance

Healthy Weight Management

Healthy Brain Function & De-stress
Muscle Recovery & Performance

Mental Clarity and Focus